I would like to seek legal advice on my case.
I'll try to be brief as possible.
- Feb. 18, 2018 purchased rights for a "pasalo" house and lot in a subdivision
- initial agreed and posted price was P250k payable in 3 months
- after seeing the property, seller demanded a downpayment and gave her my current cash on hand which is P50k
- she made a handwritten contract acknowledging receipt of my P50k downpayment
- before signing, I asked her for their accumulated cash dispensed to the property
- she said it was P310k
- she even modified the agreed price of P250k to P260k after calculating their total spending for the property
- thinking that P50k discount isn't so bad, I signed the contract
- she did not indicate the P310k on the contract but instead wrote it down on another paper and never gave it to me
- Feb. 19, 2018 after recalculating she found out that only P260k and resets the price to P250k
- Feb. 21, 2018 paid another downpayment of P60k which she used to pay P40k+ of her arrears at Pag-ibig HDMF
- once again, a handwritten receipt is signed by both parties
- we negotiated for the price and went down to P230k (P20k discount) which is a lot lower than promised discount of P50k
- next day her mood changed and said we don't have the right to dictate the price since it is her property and she can sell it for 1 million if she likes
- right there and then I wanted to cancel the deal but afraid I might not get my downpayments which now totals P110k
- I asked until the 28th to decide which is also my due for the full payment
- she offered "easy" down payment term for 3 months but for a total of P300k
- Feb. 28, 2018 I finally canceled the deal after she refuses to even pay for water and Meralco connection
- she offered to pay me P10k monthly which I refused
- we notarized a contract signed by both parties which agrees that she'll return my downpayment only when another buys her property
- she refused to put a due date on the contract
- she refused to put interest on the P110k which is loaned btw which I pay with interest
- I agreed to her terms and even offered to promote in selling the property
- March 3, 2018 found another property with lots of improvements selling for P270k
- owner agreed to pullout the property from agents and have it reserved to me until March 14
- he refuses to take downpayment from me and requires only full payment on the 14th
- I posted some household items for sale and reached out to friends hoping to complete the fund
- March 14, 2018 she contacted me offering again to pay me P10k monthly which I again refused
- explained to her (which I believe I also verbally told her on Feb.28) that I pay P6k bi-monthly for the loan which totals P12k for a month
- same day, I lost reservation to my "dream house" and it was immediatly sold to another
- March 30, 2018 she once again contacted me offering to pay me P10k monthly which I still refused and patiently waited for the property to be sold so she could pay me in full
- April 9, 2018 her property is sold which I learned from the agent
- she still hasn't contacted me to arrange the return of my P110k downpayment
- April 17, 2018 she finally contacted me but offers to pay me P40k on the end of April from her hubby's salary saying the property was sold but under installment
After patiently waiting the whole time for the property to be sold, now she still refuses to pay me in full.
Can I file a case against her for breach of contract?
Can I demand for damages incurred for her delaying tactics?
After all, I lost the chance on a better property and nicer neighborhood.
Attaching image of the contract with our names blurred out.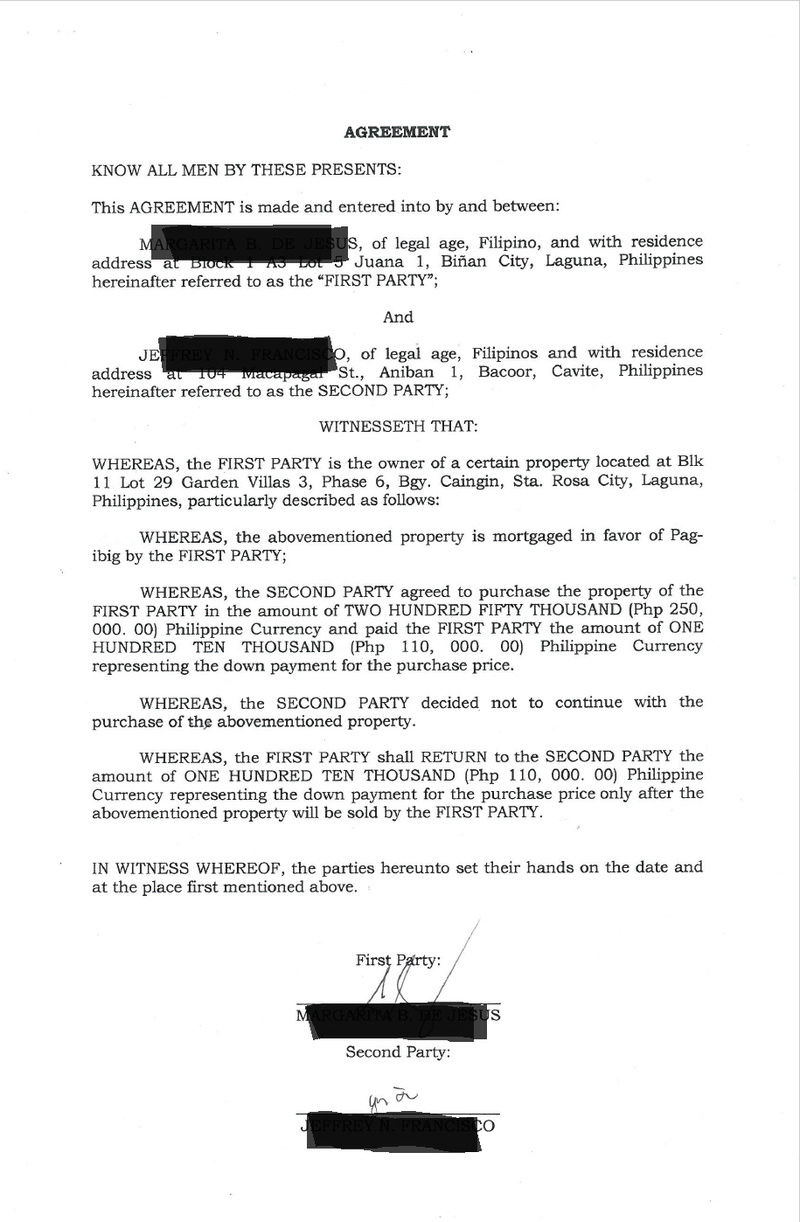 Last edited by buckskin2300 on Fri Apr 20, 2018 3:19 am; edited 1 time in total (Reason for editing : misplaced last sentences before the image)